My "Big Brother Hero"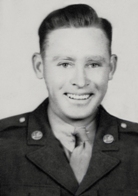 My big brother, a hero who served with a company of heroes...
Cpl. Lester A. Taylor, was born September 24, 1917. He served in WWII in Item Company, 3rd. Battalion, 502 Parachute Infantry Regiment, 101st Airborne, US Army, 1942-1944. He died serving his country and freedom everywhere in The Netherlands on September 19, 1944 near the town of Best.
My vague memory of my big brother (22 years older) who wore those shiny boots is that he tossed me up in the air and caught me! Many years later when letters were given to me by the family of my sister, Lola, I enjoyed his mention of me in his letters written in 1943 and 1944, such as, "How is Betty doing? She hasn't written me anything for some time." In my eyes he was a hero, and today, I know he was. In 1942-1944, I knew he jumped out of airplanes...Imagine that!! Even the rural mail carrier would blow his car horn each time he approached our home with a letter from Lester.
Lester's first battle jump with the 101st Airborne was with Lt. Col. Robert G. Cole's 3rd Battalion, 502 PIR, on June 6, 1944, in the D-Day Invasion in Normandy. Lt. Col. Cole was awarded the Medal of Honor for his service in Normandy. Capt. Ivan R. Hershner was the Company I, 502 commander at that time.
While fighting in Normandy, from June 6 to 12, 1944, over 110 of I Company's 131 men were badly wounded or killed. Many died in their battle to secure the villages, causeways and the town of Carentan. The few brave men left standing on June 11 including Lester Taylor, of Company I were pulled out of Carentan. Some of them wee recalled to the fighting just a few days later. Lester's letter home written on June 12 says "something big has happened, please save the newspapers for me I want to read about it." He also wrote "Our division was recognized by the President for our accomplishments, I think we earned it."
For his heroism on June 6, 1944 Lester was awarded the Bronze Star with Oak Leaf Cluster for saving the life of a comrade while under enemy fire. On the D-Day jump, John Lachkovic, landed in deep water in a flooded area. He was entangled in his chute, about to drown and under heavy enemy fire. Ignoring this danger, Lester Taylor pulled him to dry ground and performed CPR all the while under enemy fire.
After Normandy, the unit trained and re-grouped with replacements in England until their second jump into battle in Holland on Sunday, September 17, 1944 in "Operation Market Garden" with Capt. Champ Baker now Company I 502 PIR commander. The objective was to secure the bridges and towns along a highway that became known as "Hell's Highway" through Holland from Eindhoven to Arnhem.
Early in the Holland combat, Cpl. Lester A. Taylor received a "battlefield promotion" to Sergeant which was never officially recorded before he died on September 19 while leading the 1st squad, 2nd platoon, of Item Co. 502 PIR., 101st Airborne Division.
Intelligence must have been bad, there were many more enemy than expected in the area around the drop zones at Zon (Son) and Best where the 502 and 506 Regiments jumped. Soon, more of the enemy were advancing from areas beyond Best. To preserve the area and allow for British tanks expected to arrive, Company I, 502 was sent to defend the roadways leading into the town of Best and bridge and railroad across the Wilhelmina Canal.
The fighting was fierce the days of September 18 and 19. The 3rd Battalion Commander, Lt. Col. Robert G. Cole, who had earned the Medal of Honor at Carentan, in June 1944, was killed by an enemy sniper on the 18th while placing landing zone signals on the ground for incoming glider planes.
This fierce and successful battle near the town of Bes in WWII is told in S.L.A. Marshall's 1947 book titled, "Battle at Best" as well as other WWII books.
In the letter from Capt. Champ Baker his family learned Lester died about 10 a.m. Tuesday, September 19, 1944. He was described as a hero by his commander and comrades for his brave actions in assisting his squad as they were pinned down by heavy enemy fire in ditches along the road in the Zonsche Forest near Best.
After spending the night of September 18th under heavy fire in the Zonsch Forest and still pinned in ditches along the road. Lester made the decision to cross the road intersection to help a part of his squad that was pinned down. He and two other men (names unknown to me) reportedly entered the building, gunshots were heard, and Lester exited the building being mortally wounded, however, he threw a grenade back into the building and destroyed the enemy machine gun. Two hours later, his unit and others captured more than 1100 German prisoners, the British tanks had arrived and the battle moved away from Best to other areas.
On September 20t, 1944 Cpl. Lester A. Taylor was buried at the temporary cemetery, Wolfswinkel, on a farm near the town of Zon (Son). Eventually, there were 417 graves in this cemetery of those who died in that area of Operation Market Garden.
In May 1948, Wolfswinkel, the temporary cemetery at Son was officially closed. The families were given options of returning the bodies to the United States or placed in the American National Cemetery at Margraten, Netherlands. Lester's remains were brought to Tennessee, and his funeral service was held on Easter Sunday in April 1948. His grave is in the Restview Cemetery, Loretto, Tennessee.
In 2004, 2006 and 2009, I have visited the battle areas around Best, the farms, particularly that of Wan van Overveld who was a young boy of six years when he saw the paratroopers landing in his parents fields near Son. This was the jump zone for 502 and 506 Regiments of the 101st Airborne. Also, I went to the farm where the temporary cemetery, Wolfswinkel, was located, the National Cemetery, the Liberation Museum at Best, the monument honoring Lt. Col. Robert G. Cole at Best, and many other monuments honoring the liberators, St. Odenrode, Eerde, Veghel, Nimegan, Arnhem, Bastogne and surrounding area where the Battle of the Bulge took place in December 1944 and January 1945, and many other interesting, beautiful places in Holland and Belgium.
The Dutch and Belgian citizens have annually celebrated their liberation in 1944 and 1945 with ceremonies and living history events. They have invited veterans and their families to visit anytime, especially in September and December. They will tell you that on a sunny Sunday in the early afternoon of September 17, 1944, when they saw the tens of thousands of paratroopers and their chutes coming from the planes, they named them "Angels falling from the sky."
In my quest for answers that my family could not provide, I have gained many wonderful friends and felt their warm kindness both from across the United States and in the Netherlands, Belgium. and Normandy. I thank you all.
Photos and the Taylor Family story are on Peter van de Wal's Band of Brothers on the web.